Book Club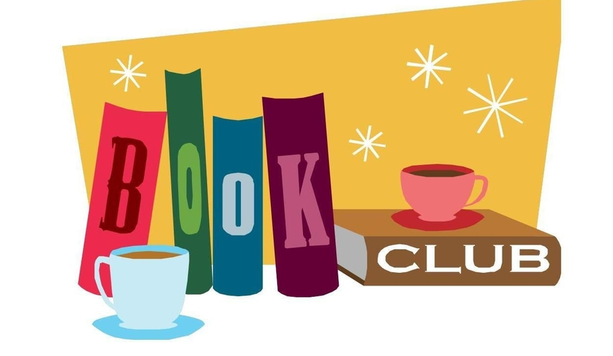 We meet on the LAST Wednesday of every month at 2:00PM at the library UNLESS OTHERWISE NOTED.
The book selected for December/January is: The Yellow House, a memoir by Sarah M. Broom. This meeting will be held on Wednesday, January 17 at 2PM!
Come and join us! New members always welcome! The library supplies books for participants through inter-library loan and copies of the book are available at the circulation desk.
Contact the library if you need a copy of the current book.
Below is a listing of books we have read in our group:
Smith: I Capture the Castle
Brooks: Nine Parts of Desire
Carr: A Month in The Country
Brooks: Year of Wonders
Russo: Empire Falls
Patchett: Bel Canto
Martel: Life of Pi
Bragg: All Over but the Shoutin'
Fuller: Don't Let's go to the Dogs Tonight
Chevalier: Girl With a Pearl Earring
McCall-Smith: Ladies No. 1 Private Detective Agency
Livesey: Eva Moves the Furniture
McCullers; The Heart is a Lonely Hunter
Steinbeck: Cannery Row
Steinbeck: Sweet Thursday
Barker: Hens Dancing
Smith: A Tree Grows in Brooklyn
Berg: The Pull of The Moon
Kosinsky: Being There
Sijie: Balzac and the Little Chinese Seamstress
Ali: Brick Lane
Kidd: Secret Life of Bees
Glass: Three Junes
Lawson: Crow Lake
Welty: The Optimist's Daughter
Dorris: Yellow Raft in Blue Water
Hosseini: Kite Runner
Foer: Everything is Illuminated
Carr: A Month in the Country
Rendell: Simisola
Kingsolver; The Bean Trees
Fitzgerald: The Great Gatsby
Austen: Emma
Santiago: When I was Puerto Rican
Haigh: Baker Towers
Swift: Light of Day
Flagg: Fried Green Tomatoes at the Whistle Stop Cafe
Cohen:The House on Beartown Road
Haruf: Plain Song
Castellani: The Saint of Lost Things
Niffenegger: Time Traveler's Wife
Morris: The Lost Mother
Gutcheon: Leeway Cottage
Zigman: Piece of Work
Evans: The Memory Keeper's Daughter
McCourt: Teacher Man
Haruf: Ties that Bind
Ruiz-Zafon: Shadow of the Wind
Sparks: Three Weeks with My Brother
Brooks: March
Fisher: A Sudden Country
Pickard: The Virgin of Small Plains
Tan: Saving Fish from Drowning
Cather: My Antonia
Dumas: Funny in Farsi: Growing up Iranian in America
Walls: The Glass Castle
Gilbert: Eat, Pray, Love
Patchett: Patron Saint of Liars
Alarcon: Lost City Radio
Hamill: Forever
Lawson: The Other Side of the Bridge
Setterfield: Thirtheenth Tale
Hosseini: A Thousand Splendid Suns
Hamill: North River
Gruen: Water for Elephants
Brooks: People of the Book
Mortensen: Three Cups of Tea
Frederickson: Hanna's Daughters
Reichl: Tender at the Bone
Maguire: Wicked
Kingsolver: Animal, Vegetable, Miracle
Karr: Liars Club
Kyle: God of Animals
Dallas: Tallgrass
Shaffer: The Guernsey Literary and Potato Peel Pie Society
Rash: Serena
Lahiri: Unaccustomed Earth
Robinson: Cost
Child: My Life in France
See: Shanghai Girls
Somerville: The Cradle
Reichl: Garlic and Sapphires
Greenberg: Hurry Down Sunshine
Newman: Mary, a novel of Mrs. A. Lincoln
Hamill: Snow in August
Hislop: The Island
de Rosnay: Sarah's Key
Eggers: Zeitoun
Desai: The Inheritance of Loss
Tinti: The Good Thief
Blake: The Postmistress
Stockett: The Help
Atkinson: Behind the Scenes at the Museum
Skloot: The Immortal Life of Henrietta Lacks
Schine: The Three Weismanns of Westport
Simonson: Major Pettigrew's last Stand
Cleave: Little Bee
Fiennes: The Music Room
McCann: Let the Great World Spin
Bennett: The Uncommon Reader
Ford: At the Corner of Bitter and Sweet
Demick: Nothing to Envy
Greene: Bloodroot
Donoghue: Room
McClain: The Paris Wife
Gordkhova: Mountain of Crumbs
Zusak: The Book Thief
Patchett: State of Wonder
O'Brien: House of Splendid Isolation
Jensen: Sisters from Hardscrabble Bay
MacLeod: No Great Mischief
Eberschoff: The Nineteenth Wife
deWaal: The Hare with the Amber Eyes
Horan: Loving Frank
Brooks: Caleb's Crossing
Franklin: Crooked Letter, Crooked Letter
Joyce: The Unlikely Pilgrimage of Harold Frye
Strayed: Wild
Barbery: The Elegance of the Hedgehog
Kessler: Birds in Fall
Gardam: Flight of the Maidens
Bloom: Away
McCall-Smith: The Right Attidtude Towards Rain
Caldwell: The Distant Land of My Father
Strout: Olive Kitteridge
Berry: Hannah Coulter
Manning: My Notorious Life
Walters: Beautiful Ruins
Atkinson: Life after Life
Hood: The Red Thread
Tan: Valley of Amazement
Shields: The Stone Diaries
Merullo: Breakfast with Buddha
Erdrich: Plague of Doves
Gaiman: Ocean at the End of the Lane
Haddon: Curious Incident of the Dog in the Nighttime
Kingsolver: Flight Behavior
Kidd: The Invention of Wings
Coelho: The Alchemist
Kline: Orphan Train
Moyes: Me Before You
Quindlen: Blessings
O'Brien: House of Splendid Isolation
Allen: First Frost
Kidd: Invention of Wings
Bryson: At Home
Flagg: The All-Girls Filling Station Reunion
Sweeney: The Nest
Towles: Rules of Civility
Ferrante: My Brilliant Friend
Backman: A Man Called Ove
Montefiore: Girl in the Castle
Davis: The Dollhouse
Cleave: Everyone Brave is Forgiven
Haruf: Eventide
Simsion: Rosie Project
Hamill: Snow in August
Diamant: Boston Girl
Zevin: The Storied Life of AJ Fikry
Jiles, News of the World
Kelly: Lilac girls
Joyce: The Music Shop
Towles: A Gentleman in Moscow
Westover: Educated
Quinn: The Alice Network
Picoult: Small Great Things
Moyes: Ship of Brides
Ludwig: Ginny Moon
Tayari: An American Marriage
Ingleman-Sundberg: The Little Old Lady Who Broke all the Rules
Wingate: Before We Were Yours
Moore: Radium Girls
Harris: Chocolat
Owens: Where the Crawdad Sings
Kreuger: This Tender Land
Patchett: Dutch House
Richardson: Book Woman of Troublesome Creek
Benedict: Personal Librarian
Brooks: March
See: Shanghai Girls
Albom: Stranger in the Lifeboat
Benjamin: The Other Einstein
Purnell: A Woman of No Importance
Chiaverini: The Switchboard Soldiers
Berg: Confession Club
Krueger: This Tender Land
Heiny: Early Morning Riser
Reid: The Seven Husbands of Evelyn Hugo
Brooks: Horse