Book Club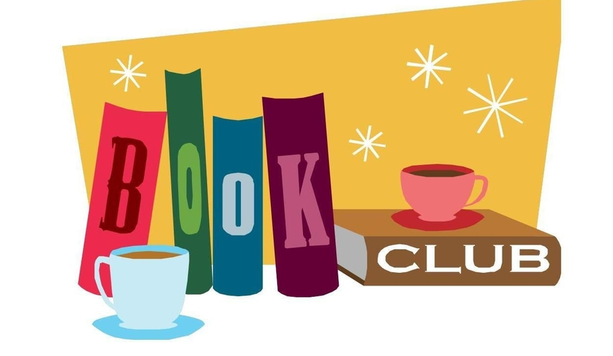 We meet on the LAST Wednesday of every month at 2:00PM at the library UNLESS OTHERWISE NOTED.
The book selected for September is The Seven Husbands of Evelyn Hugo by Taylor Jenkins Reid.
Please note: The group will meet on Wednesday, September 27, at 2:00 PM .
Come and join us! New members always welcome! The library supplies books for participants through inter-library loan and copies of the book are available at the circulation desk.
Contact the library if you need a copy of the current book.
Below is a listing of books we have read in our group:
Smith: I Capture the Castle
Brooks: Nine Parts of Desire
Carr: A Month in The Country
Brooks: Year of Wonders
Russo: Empire Falls
Patchett: Bel Canto
Martel: Life of Pi
Bragg: All Over but the Shoutin'
Fuller: Don't Let's go to the Dogs Tonight
Chevalier: Girl With a Pearl Earring
McCall-Smith: Ladies No. 1 Private Detective Agency
Livesey: Eva Moves the Furniture
McCullers; The Heart is a Lonely Hunter
Steinbeck: Cannery Row
Steinbeck: Sweet Thursday
Barker: Hens Dancing
Smith: A Tree Grows in Brooklyn
Berg: The Pull of The Moon
Kosinsky: Being There
Sijie: Balzac and the Little Chinese Seamstress
Ali: Brick Lane
Kidd: Secret Life of Bees
Glass: Three Junes
Lawson: Crow Lake
Welty: The Optimist's Daughter
Dorris: Yellow Raft in Blue Water
Hosseini: Kite Runner
Foer: Everything is Illuminated
Carr: A Month in the Country
Rendell: Simisola
Kingsolver; The Bean Trees
Fitzgerald: The Great Gatsby
Austen: Emma
Santiago: When I was Puerto Rican
Haigh: Baker Towers
Swift: Light of Day
Flagg: Fried Green Tomatoes at the Whistle Stop Cafe
Cohen:The House on Beartown Road
Haruf: Plain Song
Castellani: The Saint of Lost Things
Niffenegger: Time Traveler's Wife
Morris: The Lost Mother
Gutcheon: Leeway Cottage
Zigman: Piece of Work
Evans: The Memory Keeper's Daughter
McCourt: Teacher Man
Haruf: Ties that Bind
Ruiz-Zafon: Shadow of the Wind
Sparks: Three Weeks with My Brother
Brooks: March
Fisher: A Sudden Country
Pickard: The Virgin of Small Plains
Tan: Saving Fish from Drowning
Cather: My Antonia
Dumas: Funny in Farsi: Growing up Iranian in America
Walls: The Glass Castle
Gilbert: Eat, Pray, Love
Patchett: Patron Saint of Liars
Alarcon: Lost City Radio
Hamill: Forever
Lawson: The Other Side of the Bridge
Setterfield: Thirtheenth Tale
Hosseini: A Thousand Splendid Suns
Hamill: North River
Gruen: Water for Elephants
Brooks: People of the Book
Mortensen: Three Cups of Tea
Frederickson: Hanna's Daughters
Reichl: Tender at the Bone
Maguire: Wicked
Kingsolver: Animal, Vegetable, Miracle
Karr: Liars Club
Kyle: God of Animals
Dallas: Tallgrass
Shaffer: The Guernsey Literary and Potato Peel Pie Society
Rash: Serena
Lahiri: Unaccustomed Earth
Robinson: Cost
Child: My Life in France
See: Shanghai Girls
Somerville: The Cradle
Reichl: Garlic and Sapphires
Greenberg: Hurry Down Sunshine
Newman: Mary, a novel of Mrs. A. Lincoln
Hamill: Snow in August
Hislop: The Island
de Rosnay: Sarah's Key
Eggers: Zeitoun
Desai: The Inheritance of Loss
Tinti: The Good Thief
Blake: The Postmistress
Stockett: The Help
Atkinson: Behind the Scenes at the Museum
Skloot: The Immortal Life of Henrietta Lacks
Schine: The Three Weismanns of Westport
Simonson: Major Pettigrew's last Stand
Cleave: Little Bee
Fiennes: The Music Room
McCann: Let the Great World Spin
Bennett: The Uncommon Reader
Ford: At the Corner of Bitter and Sweet
Demick: Nothing to Envy
Greene: Bloodroot
Donoghue: Room
McClain: The Paris Wife
Gordkhova: Mountain of Crumbs
Zusak: The Book Thief
Patchett: State of Wonder
O'Brien: House of Splendid Isolation
Jensen: Sisters from Hardscrabble Bay
MacLeod: No Great Mischief
Eberschoff: The Nineteenth Wife
deWaal: The Hare with the Amber Eyes
Horan: Loving Frank
Brooks: Caleb's Crossing
Franklin: Crooked Letter, Crooked Letter
Joyce: The Unlikely Pilgrimage of Harold Frye
Strayed: Wild
Barbery: The Elegance of the Hedgehog
Kessler: Birds in Fall
Gardam: Flight of the Maidens
Bloom: Away
McCall-Smith: The Right Attidtude Towards Rain
Caldwell: The Distant Land of My Father
Strout: Olive Kitteridge
Berry: Hannah Coulter
Manning: My Notorious Life
Walters: Beautiful Ruins
Atkinson: Life after Life
Hood: The Red Thread
Tan: Valley of Amazement
Shields: The Stone Diaries
Merullo: Breakfast with Buddha
Erdrich: Plague of Doves
Gaiman: Ocean at the End of the Lane
Haddon: Curious Incident of the Dog in the Nighttime
Kingsolver: Flight Behavior
Kidd: The Invention of Wings
Coelho: The Alchemist
Kline: Orphan Train
Moyes: Me Before You
Quindlen: Blessings
O'Brien: House of Splendid Isolation
Allen: First Frost
Kidd: Invention of Wings
Bryson: At Home
Flagg: The All-Girls Filling Station Reunion
Sweeney: The Nest
Towles: Rules of Civility
Ferrante: My Brilliant Friend
Backman: A Man Called Ove
Montefiore: Girl in the Castle
Davis: The Dollhouse
Cleave: Everyone Brave is Forgiven
Haruf: Eventide
Simsion: Rosie Project
Hamill: Snow in August
Diamant: Boston Girl
Zevin: The Storied Life of AJ Fikry
Jiles, News of the World
Kelly: Lilac girls
Joyce: The Music Shop
Towles: A Gentleman in Moscow
Westover: Educated
Quinn: The Alice Network
Picoult: Small Great Things
Moyes: Ship of Brides
Ludwig: Ginny Moon
Tayari: An American Marriage
Ingleman-Sundberg: The Little Old Lady Who Broke all the Rules
Wingate: Before We Were Yours
Moore: Radium Girls
Harris: Chocolat
Owens: Where the Crawdad Sings
Kreuger: This Tender Land
Patchett: Dutch House
Richardson: Book Woman of Troublesome Creek
Benedict: Personal Librarian
Brooks: March
See: Shanghai Girls
Albom: Stranger in the Lifeboat
Benjamin: The Other Einstein
Purnell: A Woman of No Importance
Chiaverini: The Switchboard Soldiers
Berg: Confession Club
Krueger: This Tender Land
Heiny: Early Morning Riser
Reid: The Seven Husbands of Evelyn Hugo