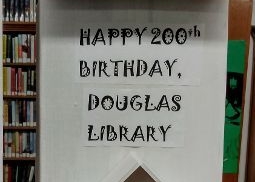 BE PART OF CELEBRATING THE DOUGLAS LIBRARY OF NORTH CANAAN'S
200th BIRTHDAY EXHIBITION!
Write, draw, paint, make a hangable art piece or a photo of what you love about libraries, books and stories, and/or about what the Douglas Library means to you.
Submit them in our special box pictured here located at the library, or give to the library staff if too big or fragile. Please include your name!
Deadline: July 3th, 2021.
We will mount all submissions and hang them up around the library for the start of Railroad Days on July 14th, 2021 thru August 30.. Any questions? contact the library or email lynnlena56@gmail.com