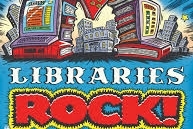 Douglas Library Summer Reading 2018: Libraries Rock!
Open to children in North Canaan, pre-K thru Grade 8.
Bring your reading journals in once a week starting the week of June 25, and you can pick a prize from the Treasure Chest OR a coupon for a Happy Meal from McDonald's.
Next Event
Did you know that the Douglas Library is 195 years old this year??? The Library was founded in 1821 when William Douglas, a Canaan resident died leaving the sum of $800 to start a library! Half of the…